In an uncertain business world, ensuring stability and resilience within your company will more than help you sleep better at night. It'll keep you prepared for the unexpected and maximise your project outcomes. That's the beauty of GRC, which is what we're going to look at today.
Before we talk about the easy and flexible GRC solution Smile IT has developed, let's take a dive into what GRC actually is.  
What is GRC?
GRC stands for governance, risk and compliance. These are three pillars that form a framework of processes all departments and personnel within an organisation adhere to, ensuring overall governance, enterprise risk management and regulatory compliance. A strategized approach towards aligning a company's IT with its business objectives, GRC creates cohesiveness and improves decision-making.
Governance
Simply put, governance is the means by which an organisation is directed. It's the setting out of the business goals and the means of achieving them, the implementation of performance and controls and the evaluation of the outcomes.
Governance therefore includes a set of rules, policies and processes to guide the activities that happen at all levels of the organisation. It creates oversight for facilities, infrastructure, personnel and applications.
Risk Management
Identifying risks and streamlining their management helps create resilient, sustainable organisations. It's essential in a world where security, particularly cybersecurity, is paramount, and helps prepare for the unexpected and improve project outcomes.
In its simplest form, risk management is the application of resources to minimise negative events and maximise positive events. Risks need to be identified and addressed in a way that aligns with an organisation's business goals and maintains the achievement of strategic objectives.
Compliance
Industrial and government agencies will put forward a set of regulations, standards and laws that businesses need to comply with. The compliance element of GRC ensures organizational activities are conducted in a manner that meets these laws and regulations. Breaking compliance can have huge legal and financial costs, never mind reputational, so companies are well advised to comply with the regulations relevant to them.
What is GRC Software?
Adhering to the three main tenets of GRC, governance, risk and compliance, involves management of a growing sea of multiple systems, processes and documentation. GRC software brings all of this together. It should add efficiency and increase the value of GRC to an organisation.
There is plenty of GRC software out there. Many of the management teams we've encountered at Smile IT have a tendency to be overwhelmed by GRC itself. Being able to find a software they felt comfortable with and could readily implement often serves to just increase that overwhelm.
After implementing our own rigorous internal GRC procedures, as well as becoming ISO 27001 certified, we thought we'd put our knowledge and understanding of GRC to good use. So we built a GRC software platform designed to reduce the overwhelm, make life easy for management and really streamline any activities and processes contributing to governance, risk and compliance.
Odzi – The Smile IT GRC Solution
When we built Odzi, first and foremost in our minds was to bring simplicity to what can be an intensive, cluttered and confusing space. We wanted to create a tool that really benefits management, aiding their decision making and adherence to GRC without overloading them with more tasks.
The Odzi Dashboard
We aimed for a minimalistic and simple feel here. An informative space that gives management a snapshot of their overall GRC situation, as well as giving them the options to dig deeper into how things are going with the frameworks being implemented. As one of our devs put it 'This is the Lego® building blocks of GRC'. The dashboard is visually appealing and easy to navigate, looking like this: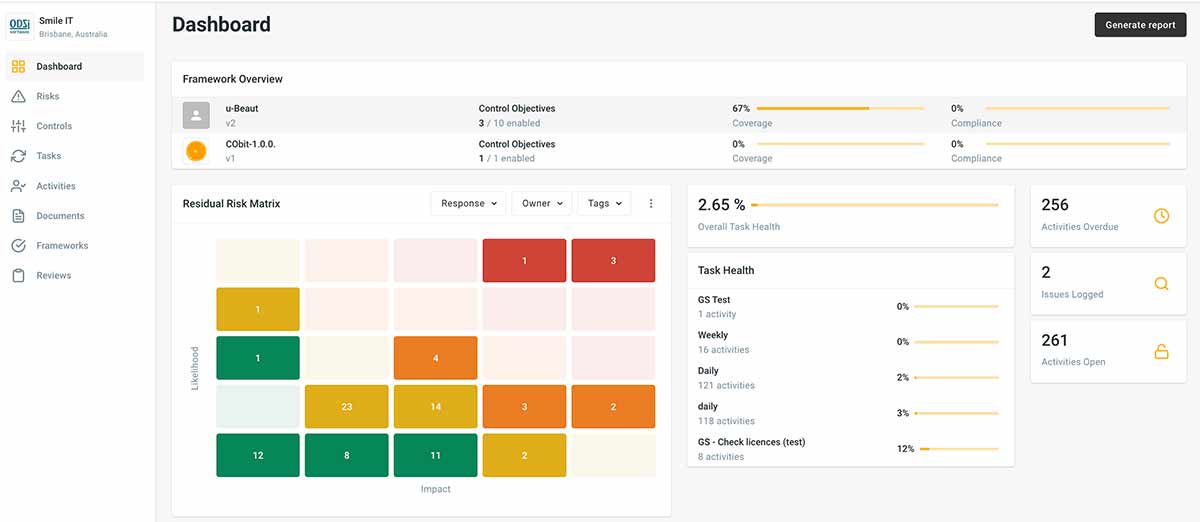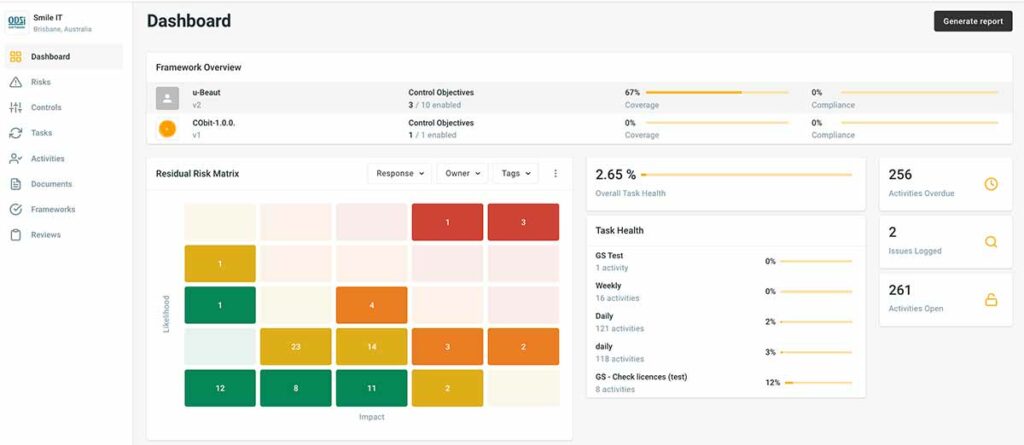 Framework overview: At the top of the dashboard we have the framework overview, which provides a quick breakdown of the frameworks implemented by your organisation. Odzi comes with a number of pre-determined frameworks that have set risks, controls and activities associated with them.
Flexibility: The beauty of this software comes in its flexibility. You can rely completely on our frameworks, or you can easily tailor your own framework based on your business and the elements of GRC that apply to it. Or you can take one of our frameworks and cherry pick the risks that are relevant to your organisation, customizing it to fit your objectives perfectly.
Residual risk matrix: Below the framework we have the residual risk matrix, providing a quick visual assessment of the number of current risks and their severity. Clicking on the colored cubes will take you through to more information about the risks that have that particular level of likelihood and impact.
Left-hand menu: On the left-hand side is a vertical menu that allows you to navigate through the different software components. The risk tab takes you to all the risks associated with the frameworks being implemented. You're able to then deep dive into each risk, see its impact, how its mitigated and map it to various controls.
Similar with Controls, Tasks, Activities, Documents, Frameworks and Reviews. They're all accessed from the left-hand menu, and can be customized, applied and reviewed with ease.
We're not looking to revolutionise GRC software. We just want it to be simpler, easier to understand and more seamless to implement. It needs to aid businesses, not hold them back.
With Odzi, we feel like we've done that. Stay tuned here or at the Odzi website for more updates, and check out this page for more reasons to choose Smile IT. If you have any questions about how our GRC software can help you, please get in touch. One of the friendly Smile IT team members would love to chat.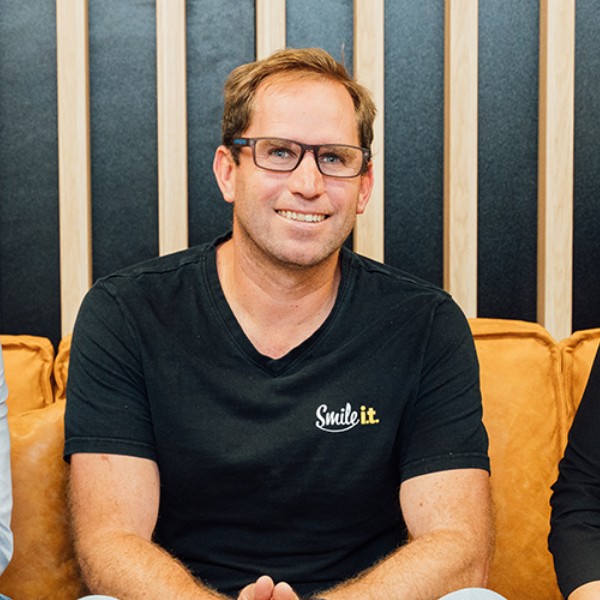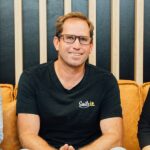 When he's not writing tech articles or turning IT startups into established and consistent managed service providers, Peter Drummond can be found kitesurfing on the Gold Coast or hanging out with his family!