THE SMILE IT
STORY
From humble beginnings in a Brisbane garage Smile IT has grown into a nationwide IT service provider, with customers right across Australia, from the big cities to some pretty remote and challenging spots such as mines in Central Queensland. Here's a bit about how we made it to this point and how we continue to grow as a Managed Service Provider.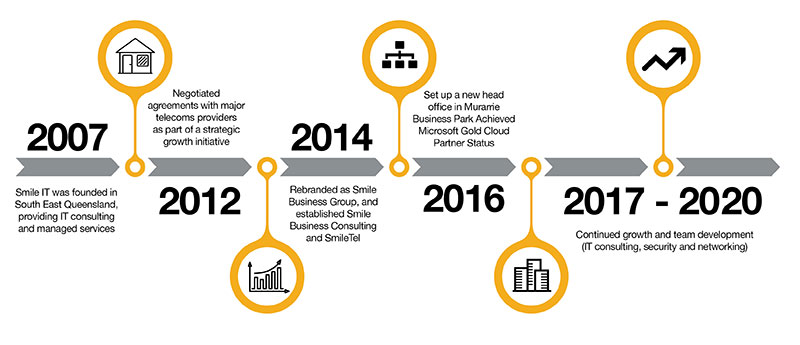 THE JOURNEY SO FAR
Smile IT came to life in 2007 when our MD Peter Drummond started operating out of his garage, providing IT services to local businesses in South East Queensland.  
Fast forward to today and we have customers right across Australia, from the capital cities to remote and challenging spots, including mine sites in Central Queensland. 
It didn't happen overnight, though. Hard work and determination in the early days led to five years of sustained organic growth. This brought us to a turning point in 2012, when we decided to diversify our services and form a telecoms arm.  
Wholesale agreements with major telecoms providers were negotiated, and suddenly we could offer our clients telecommunication implementation, management and support. 
This was a stepping stone to our rebranding as 'The Smile Business Group' in 2014, when we officially launched the SmileTel brand. We had transformed into a technology umbrella service.   
These changes in 2014 lay the foundation for the progressive growth we experienced over the next two years. We outgrew our premises, something which has happened several times since then! 
The hard work really got rewarded in 2016 when Smile IT attained Microsoft Gold Cloud Partner Status, on the back of the huge number of successful cloud migrations we've performed. We're still closely aligned with Microsoft today.  
2017 saw us progress to offering full IT management for larger corporate organisations. With enhanced systems, skills and technology, we signed up many clients in this demographic who utilise a number of our services. 
The following years have seen further growth, particularly in the development of our staff. People are an organisation's best asset, and we like to focus on recruiting and retaining the best talent around. We have a close-knit team that's growing all the time, leading to another recent upgrade to a bigger headquarters.  
As we build our team and presence around the country, we continue to offer IT and telecoms services that keep corporates efficient, secure, compliant and up-to-date.  
OUR VALUES​
We've got a team culture here that we're pretty darn proud of at Smile IT. Our clear-cut vision resonates through the team, and helps us foster strong business relationships with our clients.
A few key concepts shape our values: