Brisbane Software Developers
The Smile IT innovation incubator, known as JetLabs, is the home of our Brisbane custom software development and design team. The brief we've given these gurus of code is to develop software products that solve specific business or process problems. We want them to make your life easier and boost your productivity and efficiency. To bring your ideas to life and create tangible results for your business.
The JetLabs Goal
Our goal with JetLabs is to create cost-effective solutions that quickly translate into business value. With this in mind, our software development philosophy is based on the following elements:
Lean – our solutions are designed to remove complexity from processes and to simplify work methods. They're cloud-based to support accessibility and scalability, and formed on a tried and tested internet technology stack.
Reusability – a modular approach to product architecture and coding allows us to develop robust, highly maintainable products that share a common core. We can rapidly develop new applications on a single platform that is continually being improved.
Scalability – we 'containerise' our apps and use a system of automated deployment, scaling and management.  This ensures our products are delivered and orchestrated consistently across the cloud and different operating systems.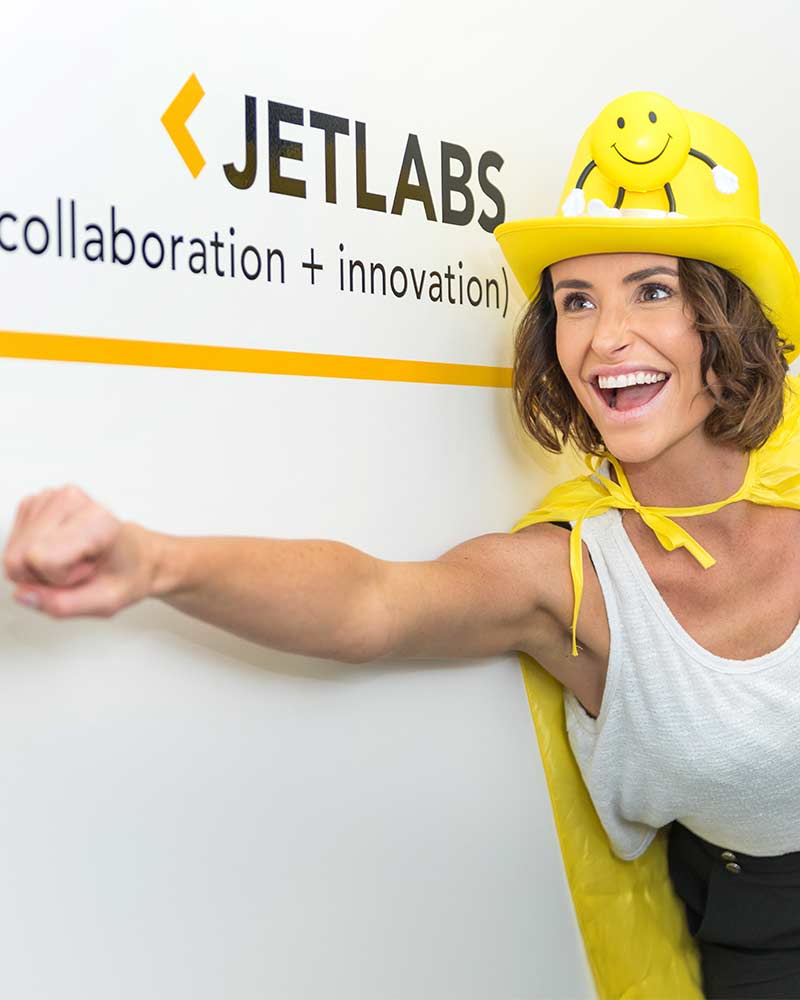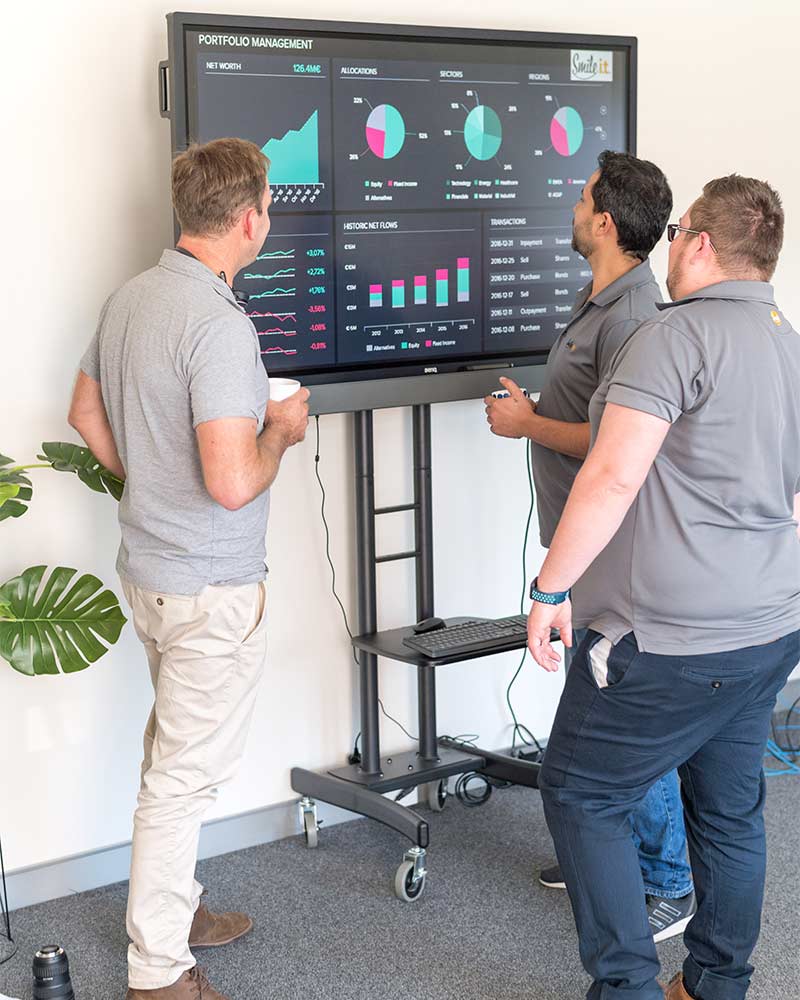 Technology We Use
Our highly trained Brisbane software developers certainly know their stuff. They're experts in the following technologies, which can be leveraged to create ground-breaking products:
Python – a widely used and highly extensible cross-platform development language;
Django – a Python-based web framework that supports rapid design. (Incidentally, it's the technology behind platforms such as Instagram and Pinterest);
PostgreSQL – one of the world's most popular enterprise-class database management systems;
Kubernetes – a container orchestration system for automating application deployment, scaling and management;
React – a software library for creating interactive UI's for web applications.
CUSTOM SOFTWARE DEVELOPMENT WITH A SMILE
Web Development
Our talented full stack Brisbane web development team will create customised software for you, built from the ground up. It's designed to solve specific problems and make your business operate better.
Got Ideas?
Our Brisbane tech and webdev team is hungry for ideas. So why not give us yours… we can turn your mobile application into into a reality, or create software to speed up your business processes.
Leverage IoT
Smile IT are the Brisbane Internet of Things experts. Our team can utilise this exciting technology to create customised solutions that'll serve to make your organisation more efficient, agile and progressive.
Why Consider Custom Software Development
If you've got a unique business opportunity or problem that needs solving within your company, custom software might be the answer for you. In these cases out-of-the-box software might not be flexible enough or exactly suited to your specific needs. Here are a few reasons why you might want to consider using our custom software development team to design a solution specifically for you.
More Efficient
When you engage a custom software development team such as Smile IT in Brisbane, it's normally because you've run into a regularly recurring problem slowing down your processes. You've probably tried standard software to help, but they haven't been exactly what you're looking for. A custom software solution is built from the bottom up, specifically made to solve your problem. It's built by experts who use a unique methodology to identify and define the issue, and design and implement the technology to solve it.
Cyber Security
When you use out-of-the-box applications, you're joining possible countless users of the same program from all around the world. That means a lot of people understand and know how to use it, including potentially dangerous hackers. They have access to the software and know how to manipulate it. If you have your own unique custom software, it's far less susceptible to hackers because so few people have knowledge of the software implemented.
Cloud Scalability
Custom software development can be integrated with the cloud for maximum scalability. This allows for flexibility for your business, allowing it to grow upwards or downwards as required without the need to purchase expensive hardware. Our Brisbane software developer team will be able to guide you through this process if you want to chat to one of them.
Integration
Standard software oftens comes with integration limitations when it comes to working with your existing systems. Custom applications can be adapted to the software you currently use by the software developer. This'll save you a lot of time and a lot of headaches down the track.
Software Developer Relations
Custom software development means you form a relationship with the software developer, who invests their time and skill into the development of your company. If your business is operating successfully, it means they have done their job properly. Your level of technical customer support is going to be much higher and more personable than if you use standard software. Your success is their success, and they're going to work hard to achieve that for you.
Solid ROI
The initial costs with custom software development may be higher than a standard solution. But most retail software these days runs on a subscription basis, so when you take into account the costs over time, they work out more expensive. Also, having a setup built that completely caters to your needs is a better return on investment than one that maybe only partially caters to them.
JetLabs: where custom software development projects come to life.
What Do Web Developers Do?
Web developers aim to build a product that solves a problem or need for their client. This could be a website or custom software development in the form of a mobile application or desktop app. This software consists of a frontend and a backend:
The frontend is the visible part of the application which is interacted with by users.  A frontend developer will use their skills in programming languages and web technologies to build something that is aesthetically pleasing and easily comprehensible.
The backend is the brain of the application, the technology that powers the frontend. Backend developers create code that ensures the frontend performs the functions it's intended to. They're largely responsible for testing, debugging and ensuring optimum integration of the software.
Full stack developers are well versed in both the frontend and backend of websites. They have a solid knowledge of the entire web development spectrum, and can guide and implement the entire process.
The Smile IT Brisbane web development team offers full stack development to create custom software and digital solutions for your business, whether you're in Brisbane or beyond. Get in touch today for a chat about what we can do for you.
Get in Touch
Would you like to see if our family of products suits your organisation? Or maybe you have a software development idea for our team? We'd love to help out. Get in touch with the form below.