BRISBANE CLOUD SOLUTIONS​
The continued development of cloud computing has changed the IT landscape forever. Cloud computing has the potential to revolutionise how you do business, thanks to the increased levels of agility, security and scalability it offers. You can modernise your business within budget by migrating to cloud services. If you want more information about cloud solutions Brisbane managed IT services provider Smile IT has the answers for you. Call us today, make the switch to cloud services and you'll never look back.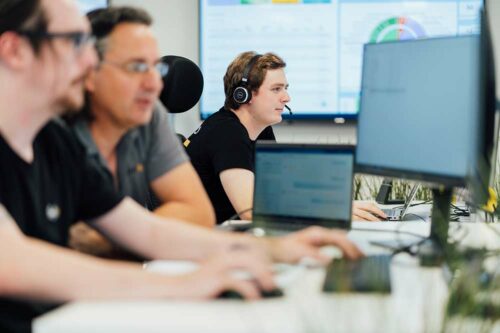 THE BENEFITS OF CLOUD COMPUTING
Cloud computing presents an opportunity to bring enterprise-level technology and efficiency to your business, no matter its size. Want to enjoy peace of mind thanks to improved cybersecurity? Enhance the remote work capabilities of your team? Bring your monthly expenses into line in a consistent manner that the accounting department will love? Then it sounds like adopting business cloud services could tick a lot of boxes for your company!
Let's take a look at some of the value the cloud will provide your business.
COST EFFECTIVE
Cloud computing is on-demand computing because you only pay for what you need. No wasting your budget on unneeded resources! Instead of setting up data centres, paying for expensive hardware and buying standalone software products, you use the remote resources of cloud providers. There are fewer start-up and maintenance costs as you become a more streamlined operation.
FLEXIBLE AND SCALABLE
Employees can access cloud services from any internet-connected device, giving them an unprecedented level of mobility. Team members no longer need to be in the office to work, they can be at home or in the field. Also, as your business, school or organisation grows, your cloud services grow with you. You can simply add users to your cloud services plan, or pay for more storage from your cloud hosting. The resources will always be at hand if your workload fluctuates!
IMPROVED TEAM COLLABORATION
Cloud services mean better communication and collaboration methods. Team members can work on projects and share data regardless of their location. Seamless group communications mean your entire workforce will always be on the same page. This is extremely important in the context of the huge shift towards remote work and working from home. The ability for multiple staff members to work on a project in real-time, across different devices from anywhere in Australia, is a game changer of cloud services like Microsoft 365.
IMPROVED CYBERSECURITY
Cloud solution providers have to comply with stringent security regulations, with their entire business model dependent on protecting your data. A huge priority is placed on cybersecurity, so when your business signs up for cloud services these benefits will be passed on to you. Cloud hosting also allows for enhanced backup and disaster recovery, so in the event of a cyber incident you'll be back up and running ASAP.
ALWAYS UP-TO-DATE
Cloud IT solution providers want to stay ahead of the game, so their technology is always ahead of the curve. Lightning-fast deployment means instant access to the latest updates for users. Updates can also be done automatically, eliminating human error and our tendency to put things like that on the back burner. Updated software is secure software, so by using cloud services you're protecting your business processes and data. Improved cybersecurity is a direct result.
BUSINESS AGILITY
Cloud services give companies an agility they wouldn't have had before. You gain control over your monthly IT budget, keeping expenditures predictable and low. You can scale up or down easily, making business growth easier and allowing you to cater to clients' demands in a nimble, effective manner. And when the industry environment changes, you can adapt to it quickly and effectively.
TYPES OF MANAGED CLOUD SERVICES
So long as they have access to the internet, Brisbane companies have access to a wide range of cloud solutions. The manner in which they're delivered depends on the organisation involved and what they need out of the cloud software or programs. Let's look at the three distinct ways in which a business could utilise cloud services.
1. Public Cloud
The public cloud provides services and infrastructure on a large scale from third-party providers. Examples include Gmail, Microsoft Azure and Amazon Web Services, where many users participate in the shared resources over the internet.
The public cloud is particularly appealing when your business wants to make use of a specific Software as a Service (SaaS), such as Microsoft Office 365. These services are typically sold on-demand, so you only pay for what your organisation uses. Due to the huge shared resources of the public cloud data centres your business will also enjoy versatility to upscale or downsize their usage.
3. Private Cloud
A private cloud is when a single organisation maintains a private network on infrastructure they own or control. When it comes to control and security, private clouds are unsurpassed. They're often used by organisations dealing in highly sensitive data and applications, like medical offices or some government organisations.
They're not as versatile as public cloud solutions and have high start-up costs due to the equipment that needs to be bought.
4. Hybrid Cloud
A hybrid cloud makes use of both private and public cloud-based solutions. They normally make use of multiple providers for maximum efficiency, allowing for seamless interaction between the two platforms.
Hybrid clouds are appealing because they provide the convenience and scalability of the public cloud with the security of a private cloud.
A common example is when a Brisbane cloud computing expert like Smile IT builds a private cloud for your organisation, securing private data behind a firewall. This doesn't restrict you from using a public cloud service like Office 365 as a key part of your computing toolset.
Questions about Cloud Computing?
In Brisbane cloud computing has become an operational cornerstone for businesses of all sizes, spearheaded by progressive, forward-thinking Managed Service Providers like Smile IT. If you've got questions about how we can help you shift to using more cloud-based services, please call us on 1300 766 720. We'd love to help you in your digital transformation journey.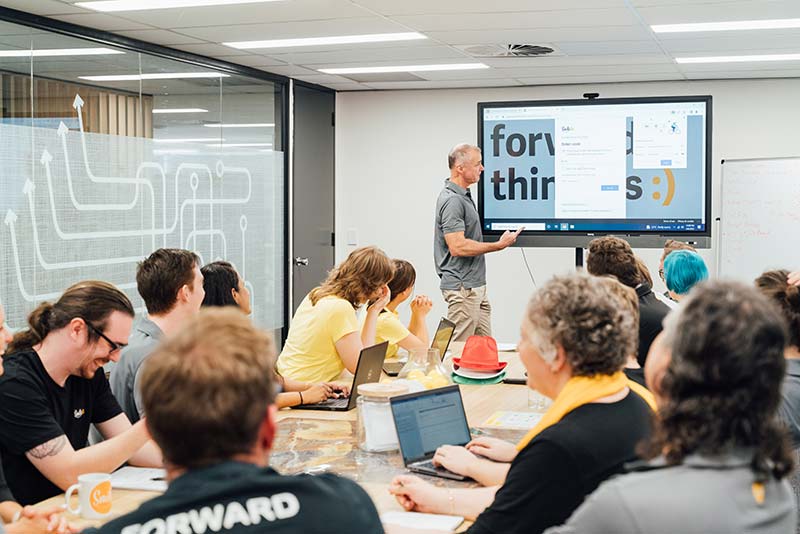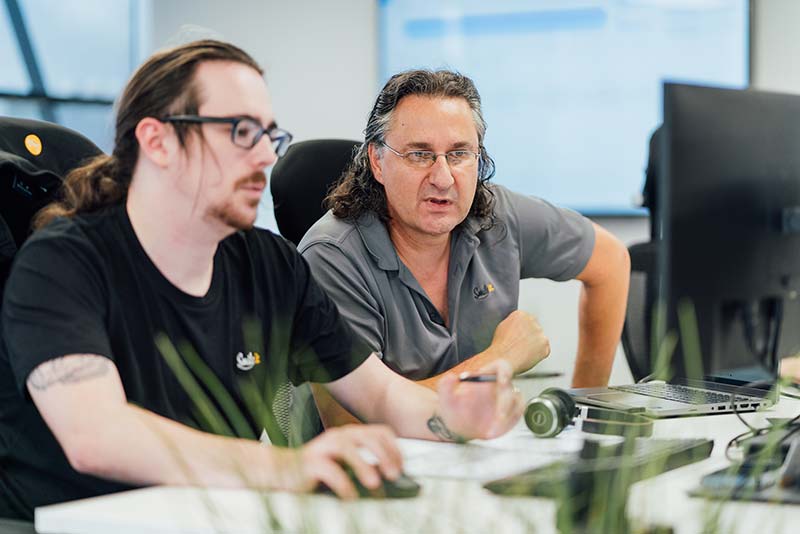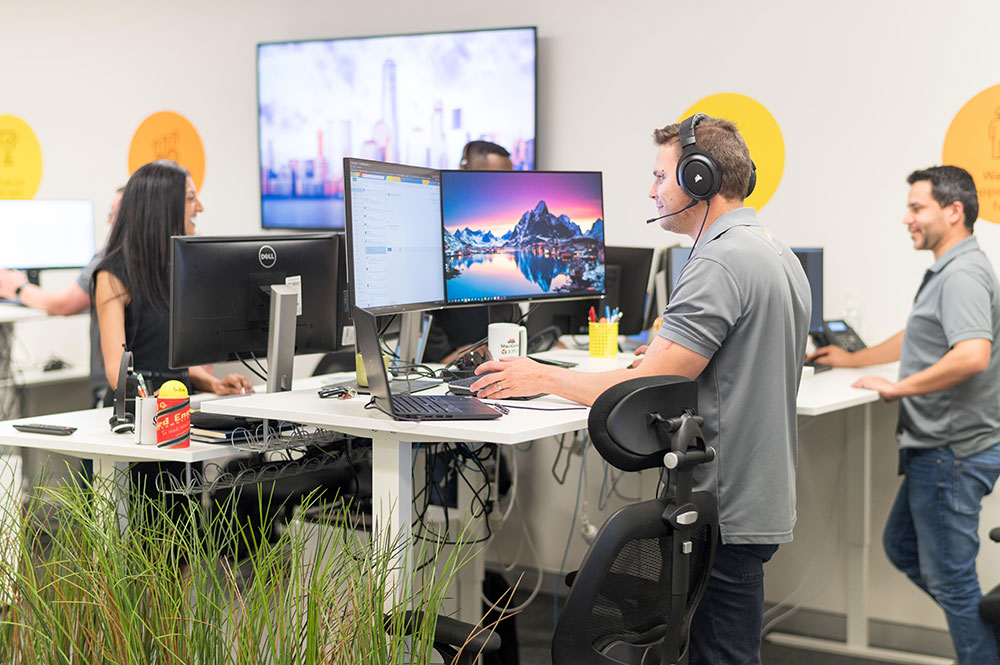 CONTACT THE CLOUD EXPERTS
Smile IT is the Brisbane expert in managed cloud services. We'd love to answer any questions you might have about implementing them in your business. Get in touch today!