The last couple of years have been tricky for businesses the world over, and our workspaces have evolved as a result. The buzzword you'll often hear now is "hybrid office". It's a term that incorporates the mobile workforce so prevalent amongst companies today thanks to pandemic-induced lockdowns.
As we re-adjust to work life post these lockdowns, the benefits of remote work for employees and employers remains, and the "hybrid office" is the result.
In a survey done in February 2022 42% of employees with remote capable jobs were on a hybrid schedule, with 39% of them working from home full time. Companies not willing to incorporate remote work for their team members might even start being overlooked by potential employees.
Not only is the hybrid office good for worker morale, it's also cost effective and gives a company greater flexibility. It actually improves productivity, which is why we've incorporated it here at Smile IT and have helped many of our managed IT services clients do the same.
Successful remote work is very tech-dependant. The right technology ensures clear communications, greater collaboration abilities and a host of tools to enhance productivity.
For us and many other MSP's, one of the favourite remote work tools is Microsoft 365. With plenty impressive features and more on the way, it's an important means of simplifying your company's remote work efforts.
Here are some ways it does so.
The Ever Evolving Microsoft Teams
Microsoft Teams is an incredibly powerful communication tool that unifies your team no matter their location. More than a messaging app, this is a secure online work hub where you can enjoy video calls, virtual meetings, audio conversations and messaging. We love some of the new features, which include:
– Webinar registration capabilities
– A slick and professional virtual presence thanks to the 'presenter' modes
– A VoIP phone system add-on for business
– "Mesh for Teams" is a recently introduced Metaverse component.
Microsoft Outlook Offers New RSVP to Meeting Options
When you have multiple team members working from home or from different offices, it can get difficult keeping track. Who's working virtually, who's working at the office, who will be at certain meetings and who won't?
A new feature in Outlook is designed to help hybrid office teams coordinate themselves better. It gives users the opportunity to reply to meetings, signaling whether they will be attending virtually or in person.
Seamless Video Conferencing Visuals
There's usually a lot more stuff in people's home than in a professional office space. This can get distracting in video meetings or conferences, particularly where there's a lot of background clutter on display.
It's also tricky to create some kind of unity between the visuals of people contributing to a conference. Sometimes their faces take up too much of the screen, other times they might be sitting too far away.
Microsoft have introduced a Surface Hub 2S Smart Camera designed to minimize these inconveniences. This camera offers more consistent sizing and clearer faces for better framing. It also automatically adjusts when people leave or enter the physical room. This new camera is a great accompaniment to Microsoft 365.
Powerpoint Gives Excellent Control of Video Presentations
Using Powerpoint to present via a shared screen over a video call isn't exactly a new feature. It's extremely handy, but it can be difficult to engage viewers as you would in real life. People can only see the Powerpoint slide and not you, so they can't read your eyes or your facial features.
Microsoft Teams has a new feature coming out called Cameo. This will give you complete control over how your video will appear to attendees when you're presenting on Powerpoint. You can insert your live video feed directly onto a slide and then apply styles and effects onto the camera feed.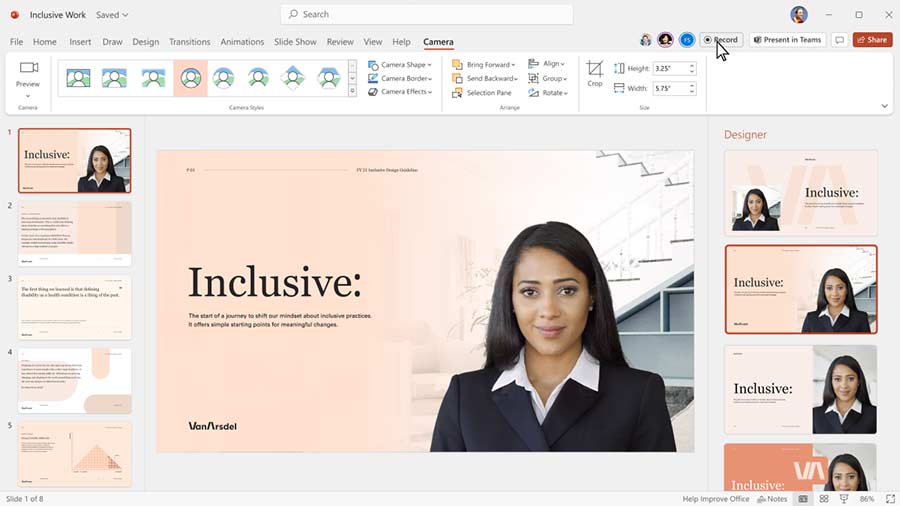 Give Your Presentation Skills a Boost
The AI (Artificial Intelligence) capabilities of Microsoft 365 have been developed over the years to the point where they're now extremely useful. Speaker Coach is one that you'll love if you need to polish up your virtual presentations.
Speaker Coach gives you a personalised coach who helps you work on your presenting skills. It provides feedback on a number of things that you do, giving suggestions on how to become more seamless and engaging when presenting online. Feedback includes:
– Using repetitive language
– Using filler words like 'ummm'
– The pace you speak at
– How your pauses are coming across
– Your intonation.
Use Microsoft 365 to Boost Your Hybrid Office Capabilities
A powerful platform like Microsoft 365 comes with a whole host of helpful features, but it can be tricky to learn them and navigate them at first. Smile IT is here to help. We're a Brisbane managed service provider who are official Microsoft partners. We have a team of Microsoft experts waiting to help you get started on your 365 journey. Give us a call today on 1300 766 720 and let's chat about how we can help enhance your hybrid office capabilities.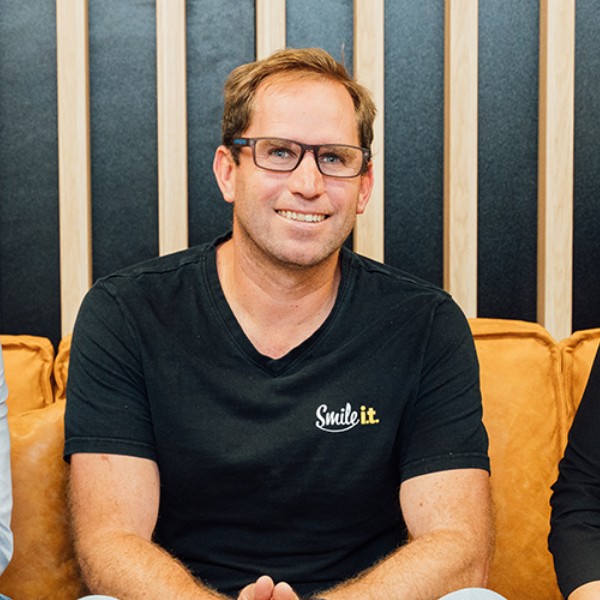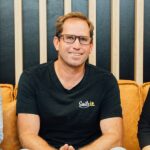 When he's not writing tech articles or turning IT startups into established and consistent managed service providers, Peter Drummond can be found kitesurfing on the Gold Coast or hanging out with his family!