Brisbane BUSINESS
TELECOMS​​​
At our telecommunications arm, SmileTel, we supply next generation business telecoms solutions that keep up with the digital age. SmileTel's Business Cloud Voice Plans are more affordable than traditional business phone systems and have added features and benefits. We can do an assessment of your internet and accessibility needs and then provide a compelling value proposition. You'll enjoy lower communication costs, more phone features and local and trusted support.
BUSINESS GRADE INTERNET
Many businesses today are using residential broadband services that are dressed up to sound like Business Grade Services. As with most things in business, you do only get what you pay for. Buying something purely on price almost always results in dissatisfaction.
Careful choice of an internet service that matches your business needs will result in an extremely powerful alignment. SmileTel will expertly evaluate your current business telecoms and see how our NBN ready, Business Grade Internet service solutions will make or save money for your business.
PHONES – THE HEART OF BUSINESS TELECOMS
SmileTel Business Voice plans work with a range of existing PBX phone systems as well as VOIP specific handset devices. If your business does not have a compatible phone system we use Yealink handsets for all of our customers.
Why Yealink? Because SmileTel believes they are the best phones for our customers!
Founded in 2001, Yealink is a leading provider of VoIP Phone and IP communication solutions. For more than ten years, Yealink has focused on VoIP products characterized by high cost-performance, easy deployment and affordable price. Yealink benefits customers from flexibility and broad interoperability with the major IP-PBX, softswitch and IMS in the market. Chosen by famous carriers, enterprises and clients from over 80 countries, Yealink provides SMB and diversified customers from all over the world a best choice to extend the value of network communication.
LEARN MORE
Business Telecoms are the key to clear communications and heightened efficiency. Read a bit more about why they're so important to your business in this article: "The Importance of Business Telecommunications"
If you have any questions about telecoms services Smile IT offers, or need more information about our phones and packages, please contact us on 1300 766 720 or drop us a line here.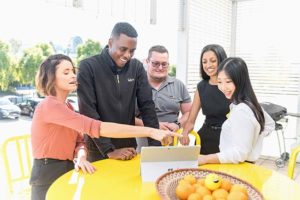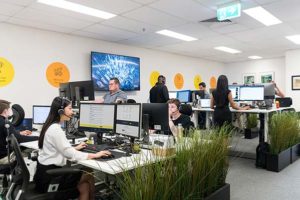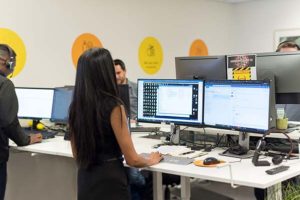 Telecommunications in a Remote Working World
Remote work has been on the increase for many years now, but has kicked into overdrive in recent times with lockdowns around the globe forcing people to work from home. Never before has communication been so important, as businesses aim to keep customers happy, keep their team on the same page, and keep costs to a minimum. Being able to collaborate effectively, to leverage video conferencing and to keep business data secure at the same time really helps a business balance remote work with office work. 
As a result, businesses have had to innovate, and telecoms providers and phone systems have had to keep up with the need for progress. Smiletel has ridden the wave of these changes, staying updated and always offering you the best technology in Brisbane. While these changes happen in the telecommunications industry, our commitment to customer service and providing cost-effective solutions does not. Here are a few reasons why you can't go wrong when you choose Smiletel as your business telecoms provider. 
Scalable Solutions
No matter the size of your business, we have the telco solutions to enhance your communications. Easy scalability means they grow with you easily, all the way up to enterprise level.
Easy to Use Phone Systems
A simple onboarding process combined with intuitive phone and NBN ready internet systems makes for a seamless transition to the Smiletel ecosystem. Less headaches for you and your time, more time to focus on growing your business.
Cost Effective
In a tough business environment Australian businesses need the best quality telecoms service for low capital outlay. That's exactly what our cloud and VOIP communication systems bring to the table. 
CRM Integration
Our solutions are designed to integrate with your customer relationship management software. This is a great help when it comes to record keeping and managing your communications with your clients. 
Brisbane Based Customer Service Team
When you pick up the phone and ring us at Smile, you're speaking to one of our knowledgeable experts in Tingalpa, Brisbane. They understand the Australian context and are fully versed in the technology we offer. Your questions are answered and your problems are solved with a smile, always.