IT SERVICES FOR 
ACCOUNTANTS
The accounting industry has seen mainstream adoption of cloud-based services. The shift to online has streamlined how accountants do their work and communicate with their clients, with cloud accounting software such as Xero fast becoming the industry standard. This level of adoption needs IT support, which is why Smile IT's managed IT services for accountants are so important. 
IT Solutions for Brisbane Accounting Firms
You're an accounting firm, which means your clients come to you for your skills with numbers, your knowledge of the business environment and your experience in helping businesses manage their finances. 
They don't come to you for your proficiency in IT. And as important as IT is to the seamless functioning of your accounting business, you don't have the time to focus on making sure it's running to the best of its ability. 
So you turn to someone whose focus is IT, like Smile IT. We're a Brisbane managed service provider offering accounting firms complete peace of mind as we take care of your IT for you. You take care of your accounting clients and we'll make sure your technology is there for you to do that, always. 
With our stable, reliable and effective IT platform to run your accounting firm from, your practice is going to go from strength to strength. Rest assured, Smile IT will be there to support you every step of the way.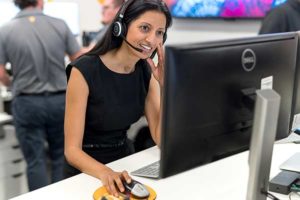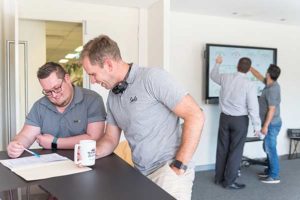 Why Choose Smile IT as Your Accounting IT Services Provider? 
We're all about removing the IT headaches your accounting firm might experience. We want you to enjoy the latest technology and software platforms without any glitches, breakdowns or security issues. That way you can focus on your teams productivity and on serving your accounting clients better, while we focus on keeping your technology running at an optimal level. 
Here are some of the ways we do this. 
Cyber Security
If your accounting practice is operating off cloud-based platforms, the security of your client data becomes paramount. You want to do everything you can to keep their financial, tax and accounting data safe, so cybersecurity is a massive consideration for accounting firms. Smile IT will ensure your cyber defences are at the highest level possible, installing the necessary antivirus and network protection software, and then monitoring your system to stay on top of any cyber security threats or breaches. You can enjoy complete peace of mind knowing your data and network is in safe hands. 
Data Backup and Recovery
There's always a chance your accounting business and client data could be compromised through a catastrophic event such as a flood or fire or through human error. If this is the case, you want to have backup systems in place that will allow you to get your accounting firm back up and running in no time at all. We not only ensure your data is backed up and secure, but we make it easy for your accounting business to get back up and running in the event of a catastrophe. 
Network Monitoring 24/7
We take a proactive approach to supporting your IT environment, basically becoming an off-site IT department for your accounting business. Our monitoring setup means that no matter what time of the day or night it is, we can pick up on a problem with your IT and prevent it snowballing into something bigger. This is extremely important in keeping your network secure and helping pickup on issues before they develop into something damaging. 
Australian Based Support
Smile IT is based in Tingalpa, Brisbane. We have clients all across Queensland and around Australia, so no matter where you are in the country you can take advantage of our 24/7 IT support. When you ring our help desk, you're always assured of speaking to someone in Brisbane, with a solid understanding of the Australian context to go along with their advanced IT skills. 
Affordability
Accounting firms know how important it is to offer high-level services within a clients budget, so that's what you can expect from Smile IT. Our managed IT support for accountants is subscription based, so you pay a set fee that doesn't allow for bill shock at the end of the month. You can take comfort in this predictability, as well as in the knowledge you can easily scale up or down our IT services as you need them. 
When you work with Smile IT, your success becomes our success. We want to be your technology partner, ensuring your IT ecosystem enjoys seamless operations that take the stress off your accounting practice management. Get started today by filling in the form below, or simply give us a ring on 1300 766 720. 
Get in touch about our IT support for accounting firms using the form below.

Case Study: Chancellors Chartered Accountants​
Chancellors is a boutique firm of Chartered Accountants established in Brisbane in 1934. Independently owned,it's been operated by three generations of the Chancellor family. Smile IT engaged with Chancellors in 2016 and we've established an excellent relationship built on the shared values of respect, integrity, honesty and commitment.
CCA had an old SBS server in place, past its warranty expiration date, and were looking to move to a cloud based architecture to address their evolving business needs. They needed a centralised solution that maintained enterprise-class security and ease of access. They also needed to update the hardware for their employees as part of their infrastructure review and renewal.
Smile IT has worked with Chancellors to change and implement the following solutions:
Migrate email services to Office 365 from Exchange 2010
Upgrade Office 365 subscription to Microsoft 365
Implement Microsoft 365 features including:

Advanced security and reporting
Advanced Threat Protection
Two Factor Authentication
Conditional access

Procure and install new workstations for all users
Configure AzureAD for SSO and management of devices using corporate policies
Configure secure remote access via IPSEC VPN
Migrate company data from the server to SharePoint online
The move from a traditional on-premise infrastructure to Microsoft 365 has provided CCA with a centralised system for email and document collaboration. This system includes enterprise-class security and availability, and has been a successful and effective outcome for the organisation.

Case Study: Balanced Business Accounting​
Balanced Business Accounting (BBA) and Smile IT have been working together for the last 13 years. Matt (BBA Principal) and Peter (Smile IT) have together developed an IT platform to support a number of phases of business growth.
Smile IT has successfully delivered the following projects for BBA:
New telephone systems
Office 365 migration
Federated Active Directory to Office 365
Fast Data and Internet Links Leveraging NBN
Remote worker enablement with cloud phones, VPN and 365
Standardised work PC's and Laptops with Dell Business Range
Cloud monitored network devices
Shadow protect backup solution