The modern workplace has evolved at a rapid pace, particularly in the post-pandemic days. Remote work is now an integral part of many businesses, and the hybrid workplace is evolving and continuing to define itself.
Technologies supporting this are growing in profile, and organisations are challenged to decide their own path and what they need to incorporate to support their journey. Something that's risen to the fore is the popularity of collaboration spaces within the physical office space.
Today we're going to take a look at what these spaces are, why they're important and what it takes for a collaboration space to be effective!
What is a Collaboration Space?
With the massive ascendancy of remote work during and following the pandemic, collaboration become something of a buzzword. It was more than a buzzword though – companies resorted to online collaboration to survive lockdowns, to keep business ticking over and staff active.
The entire concept of remote work has persisted, with many businesses now having a combination of people working from home and from the office. Collaboration is both in person and online, and spaces within the office that can support and facilitate this have become more and more important.
They aren't a new concept by any means. A collaboration space is a designated area where employees meet to work together on projects, brainstorm ideas and 'collaborate'. The conference or board room is probably the longest standing example within a corporate office space. However, offices are moving away from that somewhat traditional and stuffy model…
A Successful Collaboration Space
In the office of today collaboration spaces are specifically designed to foster teamwork and creativity. They bring people together in an exchange of knowledge, ideas and skills that benefits the organisation, promoting clear communication between team members.
The spaces have a strong foundation in technology. When you've got staff working from home there are specific equipment and apps required to ensure collaboration with those in the office is a seamless process. We'll speak more on the technology further down.
A successful collaboration space will be adapted to the type of work to be done there. Architects may need large tables to spread out mock ups or drawings, marketing agencies will need digital whiteboards and webinar equipment. Designers may need writable surfaces to share their ideas on. Every industry will have a different set of needs for their communal work areas.
Many companies are leaning towards informal collaboration spaces, with a focus on comfort and fun. Intended to encourage social interaction and a mix of work and play, they can include things like table tennis tables, a smoothy bar or arcade games.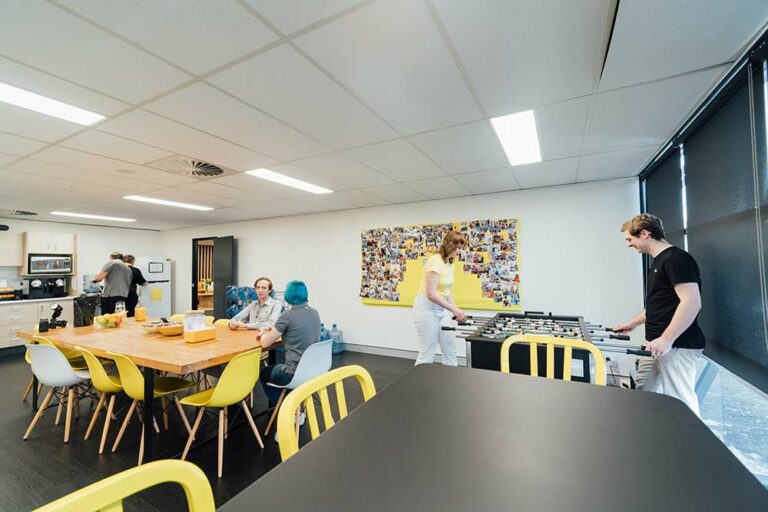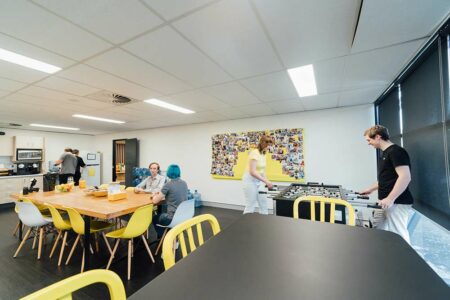 A successful space will also be flexible, able to accommodate various kinds of activities and discussions from different size groups. Think minimal design, moveable elements and unintrusive yet effective technology. The space needs to be able to evolve as your company does.
It's important too for the collaborative space to stay on brand, with the look and feel embodying the aesthetics of your organisation. It needs to become a cornerstone of your company culture, reinforcing your values and mission. This helps create a consistency in the work environment, connecting staff to your organisation and fostering a sense of pride and ownership in them.
Essential Technology for a Collaborative Space
Collaborative spaces will only be a success if the technology supports the process. The tech needs to facilitate clear communications between onsite and offsite staff and keep the team productive. Some examples that can be used include:
Video Conferencing: The ability to talk (almost) face-to-face and collaborate in real time is essential. As well as the hardware required (high-definition video and audio equipment), the necessary software should be available too. A lot of organisations turn to Microsoft Teams for their virtual meeting needs, as it has an advanced array of features to assist in collaborating.
Cloud Storage: The files applicable to a task or project being worked on should all be readily available via cloud storage. This allows staff to access them from anywhere and work on them together, with any updates being saved automatically.
Virtual Whiteboarding: Multiple employees in multiple locations can all visualise and brainstorm ideas on the same virtual whiteboard with this technology.
Direct and Group Messaging: Direct messages or group messages mean allow for multiple layers of communication. For example, staff could be taking in a webinar and exchanging important files with regards to what's being talked about.
Screen Sharing: Equally important for training and engagement, screen sharing ensures everyone attending is on the same page and can contribute to what needs to be done.
Ask Smile IT About the Best Collaboration Tools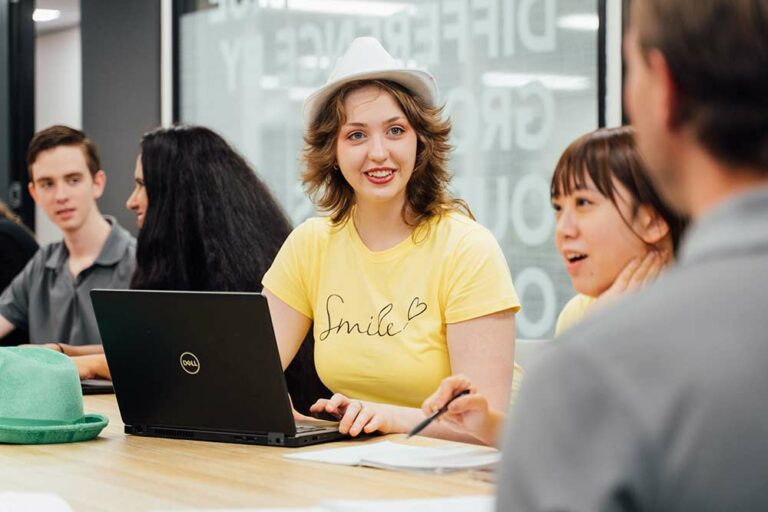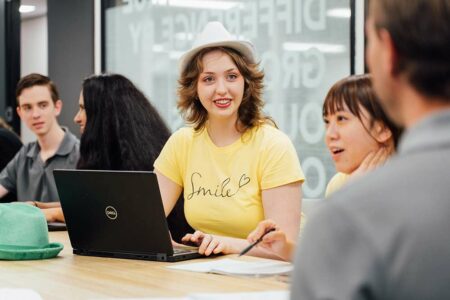 Collaboration spaces can have a big impact on your team productivity. They improve communication and help create a sense of community and loyalty. Team members feel valued and empowered to do their job better.
Smile IT has lots of experience in navigating the best technology for a successful collaborative space. We can help guide you towards what to use and how to integrate it with your current office tech.
A future-proof, flexible and effective collaboration space will be the result! Get in touch with a member of our Smiling team today!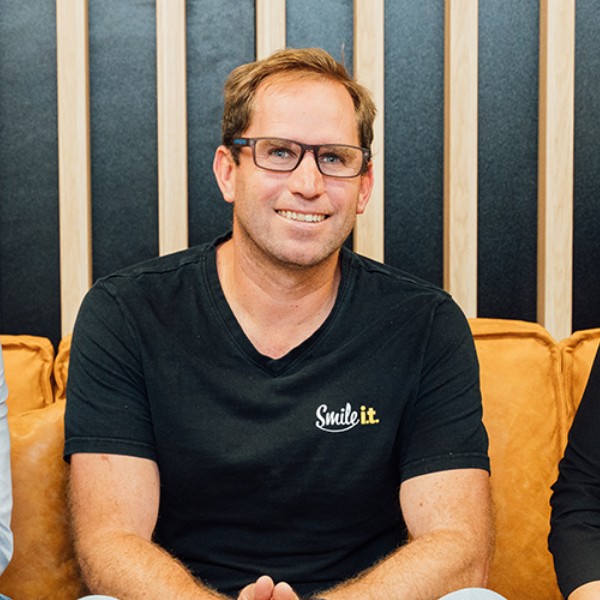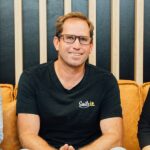 When he's not writing tech articles or turning IT startups into established and consistent managed service providers, Peter Drummond can be found kitesurfing on the Gold Coast or hanging out with his family!